Caregiver Jobs in Southeastern Wisconsin
Join Our Team
Interested in a home care job and living in Southeastern Wisconsin? We have the perfect employment opportunity for you. Celestial Care caregivers enjoy being of service to others, demonstrating a kind and compassionate attitude. They enjoy their profession and are hard-working. Our team strives to better themselves by obtaining new knowledge in the field, and enjoy working with people of all ages. If you feel these qualities represent your personal work ethic and attitude, we would love to work with you.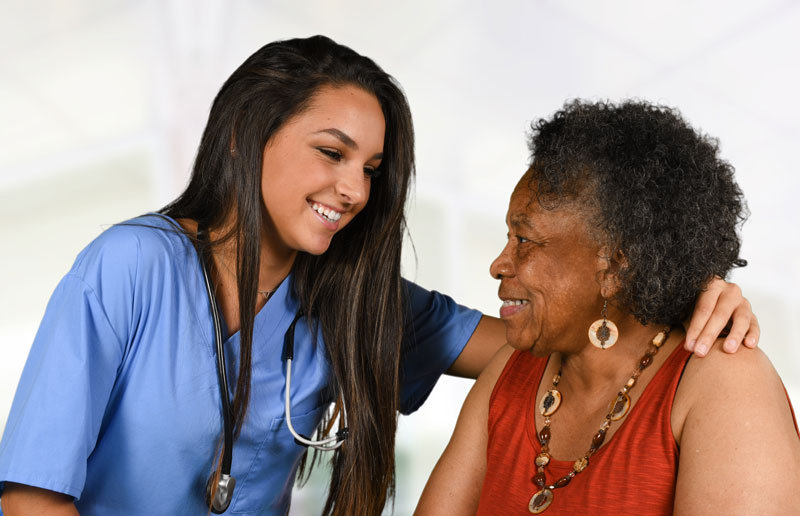 Equal Opportunity Employment
We are an equal opportunity employer. We are committed to treat applicants and employees equally regardless of such considerations as race, color, religion, sex, national origin, age, disability, citizenship status, status as a disabled veteran or veteran of the Vietnam era, marital status, sexual orientation or any other reason prohibited by law.
Work With Us
Celestial Care is looking for home caregiver applicants throughout Southeastern Wisconsin. Some of the cities we're hiring in include:
Join our team of caregivers and help the community. Get in touch with us to learn more about our services and a full list of available home care jobs.
Hiring Family Caregivers Across Southeastern Wisconsin
We're looking to fill urgent job openings for family caregivers across the Southeastern part of the state. Our family caregivers enjoy being of service to others. If you love working with people of all ages and have a positive work ethic and attitude, apply to become an in-home caregiver with Celestial Care.
Build Bonds and Brighten Lives as a Senior Caregiver
Celestial Care provides meaningful career opportunities for senior caregivers in Southeastern Wisconsin. Take advantage of available flexible scheduling and continued training to grow your skillset. Join our team and make a positive impact on the lives of seniors while building a rewarding and fulfilling career in senior caregiving.
Empowering In-Home Caregiver Jobs
Celestial Care is committed to offering fulfilling in-home caregiver jobs. As an in-home caregiver, you'll have the opportunity to provide essential assistance and companionship to clients in the comfort of their own homes. Embark on a rewarding journey where your care and dedication can positively impact the lives of those you serve.
Celestial Care Hires Many In-Home Caregiver Types
Frequently Asked Questions on In-Home Care Jobs
Is a caregiver job worth it?
A caregiver job is worth it for individuals looking for a rewarding career that makes an impact on the lives of those who can't care for themselves. Becoming a caregiver allows you to build meaningful relationships with clients and their families. Caring for others can offer a sense of fulfillment and personal satisfaction, a top quality many people look for in a job.
Are caregivers in high demand?
Caregivers are in high demand across Southeastern Wisconsin. And there's never been a better time to become one. If you have compassion, a good work ethic, and at least some experience in the industry, you can receive the training you need to be a great caregiver with Celestial Care.
What is the most difficult thing in a caregiver job?
The most difficult thing in a caregiver job is avoiding burnout. Many caregivers suffer from long, nonflexible work schedules that lead to wear down and loss of motivation. Thankfully with Celestial Care, you can pick your shifts and only work the hours you're available for, avoiding burnout.
What is a caregiver vs caretaker?
A caregiver is someone who provides physical and or emotional care to a person who cannot fully care for themselves. A caretaker is someone who provides care to a person and also takes care of their home and property, often helping with maintenance, repairs, and upkeep.
How do I get a job as a caregiver?
Getting a job as a caregiver is often simple. Many caregiver jobs have low entry requirements and even offer paid training to equip you on how best to care for clients. Apply on our website to be considered for a caregiving position at Celestial Care.